Rooftop Inspiration
At Rotterdamse Dakendagen, we are always full of rooftop inspiration. But around us, we also see great creative rooftop initiatives and projects being developed. Due to the densification of cities, rooftops and balconies play an important role in the daily lives of citizens. They are welcoming places for fresh air and contact with your surroundings. On this page, we love to share inspiring rooftop initiatives and articles with you. Partly organised by Rotterdamse Dakendagen, and partly by other initiators from Rotterdam and from over the whole world. We hope you will find inspiration for your own rooftop, a rooftop in your neighbourhood or about the rooftop possibilities in general.
rooftopics
For our Rooftopics series, Léon van Geest visits the most innovatieve rooftops of Rotterdam and their creators, makers and visionaries. He interviews the experts on 'their' rooftop, discusses what is there and, more importantly, what is needed on the rooftops.
Rooftop Catalogue
In June 2021, MVRDV and Rotterdamse Dakendagen, together with the Municipality of Rotterdam, launched the Rooftop Catalogue. In the book you'll find over 130 possibilities to use your rooftop. Get inspired! the catalogue is for sale via NAI Booksellers.
Rooftop conversation with Winy Maas, Leon van Geest and Mattijs van Ruiven
To celebrate the launche of the Rooftop Catalogue, Winy Maas (MVRDV), Léon van Geest (RDD) and Mattijs van Ruiven (Municipality Rotterdam) got together on top of De Heuvel building to discuss their vision on the future of rooftop use.
Rooftop Farmers meet-up
Are you a rooftop farmer or do you have ambitions to do something agricultural on a roof? During our 2021 Knowledge Day, we organised (together with DakAkker) the first European Rooftop Farmers Meet-up. Rooftop Farmers from all over Europe gathered (online) to exchange knowledge, inspire each other and to discuss the future possibilities. You can re-watch the entire meet-up online on our Youtube channel.
Nationaal Daken Plan
The Nationaal Daken Plan is a coalition of partners that want to use rooftops for climate adaptation, urbanisation and densification, sustainable energy, biodiversity and health challenges. Knowledge exchange and bundeling of forces are key elements in the development of a multifunctional rooftop landscape. You can also participate in the plan. From companies and provinces to citizen initiatives, everyone can sign up. Do you want to contribute?
Klimaatdakje: what are your options?
Do you live in Rotterdam and want to create your own green rooftop, install solar panels or do anything sustainable on your roof? This super handy tool shows you the possibilities for your personal rooftop in a wink of an eye. By simply handing citizens the right information, Klimaatdakje aims to contribute to a sustainable and healthier city. You also receive an estimate of the costs and benefits of a climate rooftop.
Your own green roof by Natuur&Milieu
Green roofs contribute to a better living environment because they function as a place for water storage, to cool down cities and it is a place for birds and bees. Not only the roof of your house, but also that of your garage, shed or extension! Natuur&Milieu (Nature & Environment) helps you doing so. Besides instruction videos and information on how to build your own green roof, you can also hire professionals via this organisation to do so for you.
Library full of rooftop information
Looking for information about rooftops and everything that has something to do with it? Take a look in the 'library' of Green Deal Groene Daken (the Deal itself is concluded). You'll find interesting publications, presentations, reports, platforms and all kind of examples of rooftop use here.
Rotterdam Municipality creates green rooftops
The Municipality of Rotterdam is a great supporter of creating green rooftops and installing solar panels. Since 2020, you can ask for a subsidy to create a green roof or for water retention on your roof.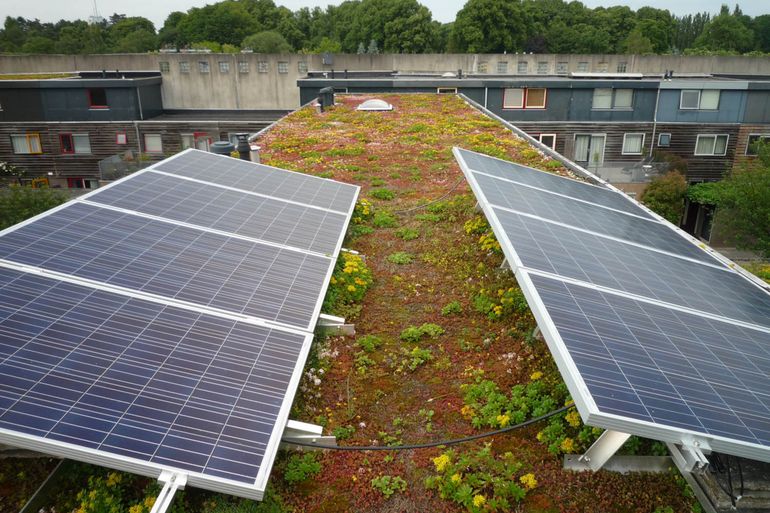 Improving your living environment, according to Nature Today
Why does a green roof makes you happy? And where lie your opportunities? Read about the experiences of two proud rooftop owners. The article is also full of handy and fun links for professionals and anyone who wants to do something with rooftops. You'll also find some useful insides on green facades!
Prepare yourself for extreme weather with Rotterdams Weerwoord
Due to climate change, the weather is becoming more and more extreme. This also has consequences for cities and brings riscs with it. Do you want to do something to make the city more resilient for the future? On the website of Rotterdams Weerwoord, you will find all kinds of possibilities and tips to do this. From lifting tiles to various subsidies you can apply for. (Website in Dutch)
Scientific research on rooftops
We regularly collaborate with students and their scientific studies. From transformation, to water retention or policy, we collected a wide range of rooftop related topics. We are happy to share these studies with you here. Get inspired and deepen your knowledge.
The future of rooftop use
From 26 May until 26 June 2022, visitors could visit the Rotterdam Rooftop Walk for a stroll through a future vision on cities, full of innovative rooftop solutions. You can still see the exhibition, including all partners and initiators on our website. Get inspired!
On top of sustainability
In 2021, Peter Frandsen did research for his master thesis with us at Rotterdamse Dakendagen. He also wrote an article on his vision for rooftops and how they can contribute to a resilient city and how Rotterdamse Dakendagen contributes to this for the city of Rotterdam.
Want to read more? We regularly add new rooftop inspiration to this page.